Join Us for an Unforgettable
Megan's Bay Experience
Get Beachfront and Island Vacation Accommodations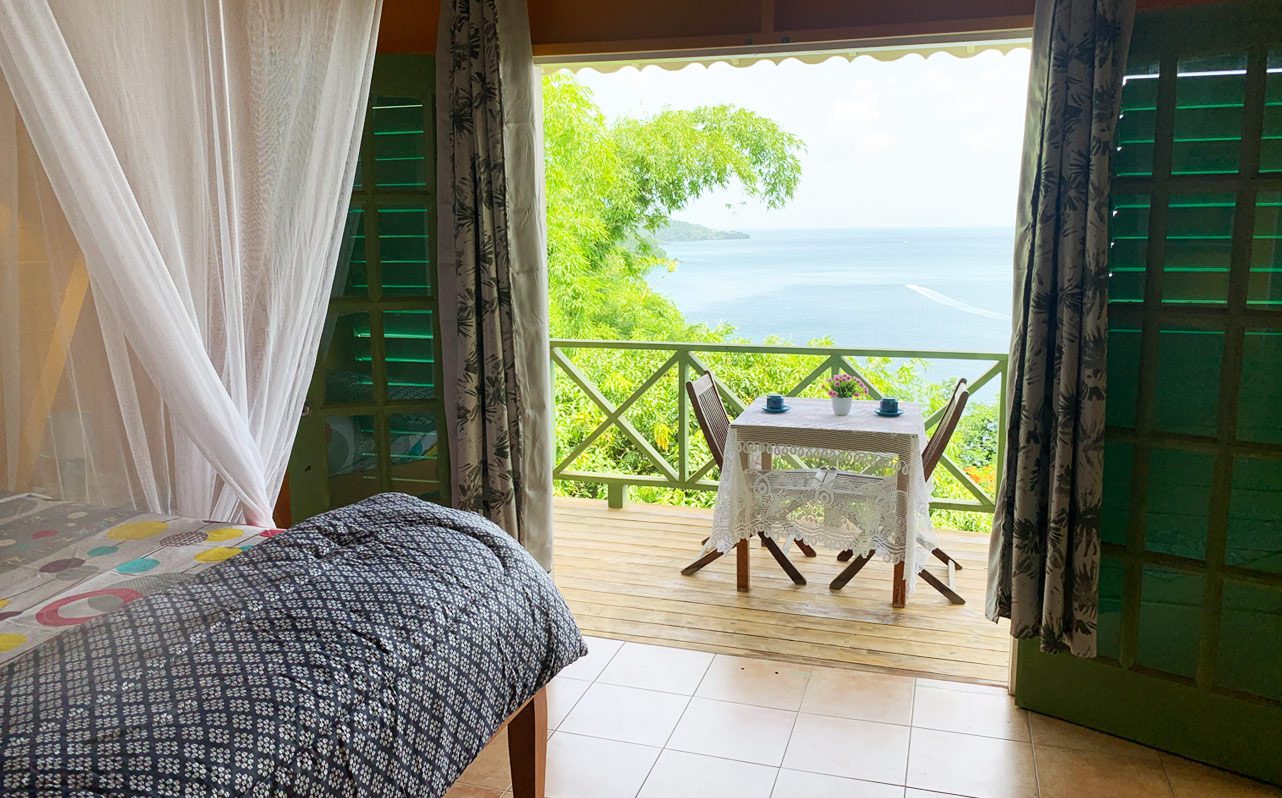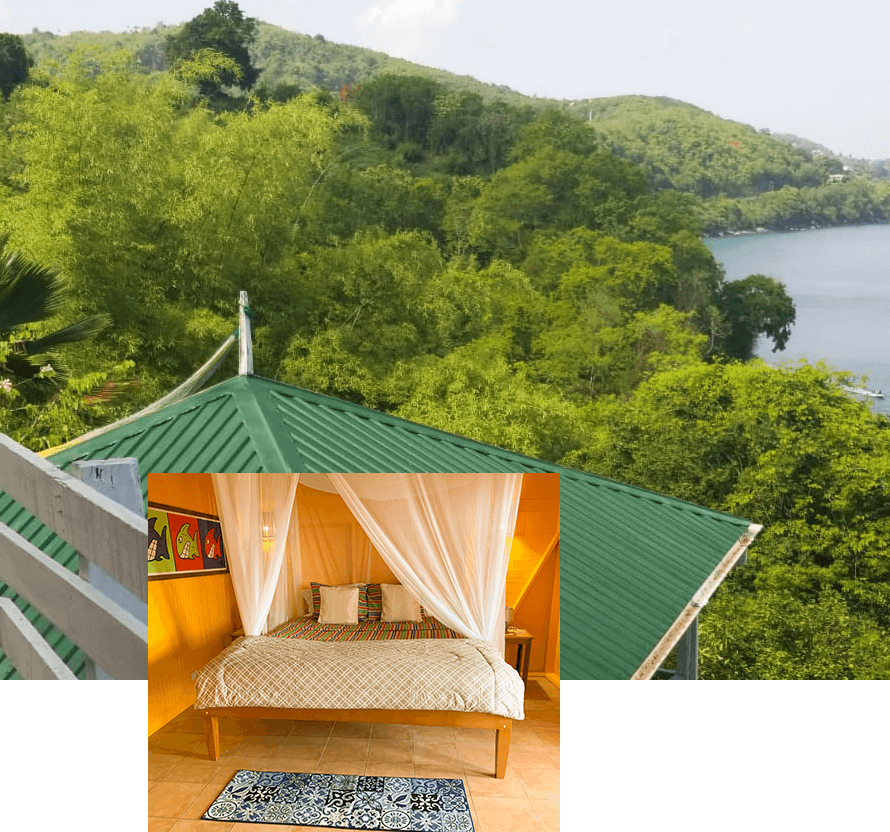 Megan's Bay is a beautiful boutique resort situated above a secluded black sand beach/cove with sweeping ocean and forest views. Megan's Bay Cottages is a one-of-a-kind rare find on the island.
Located in St. John's parish, the resort is outside the hustle and bustle of town, offering serenity and relaxation. It is also the only beachfront boutique resort along the Caribbean coast, which has much calmer water than the Atlantic side of the island, outside the Grand Anse "tourist" area.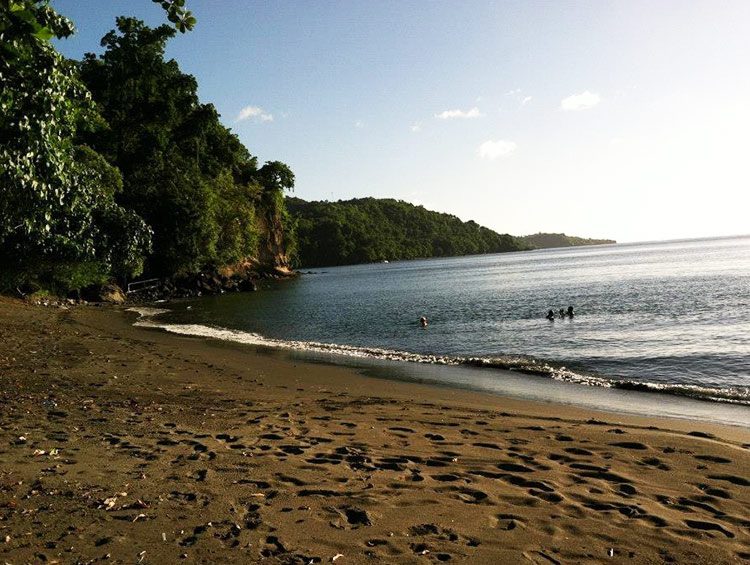 We have one of the best snorkeling spots on the island, and are situated very close to Concord Waterfalls, offering unparalleled hiking, walking, boating, and swimming opportunities. The resort also boasts a large iguana population of all sizes and colors. Enjoy feeding them mangoes and other fresh fruits straight from the lush gardens and be entertained by their personalities and beauty.
Erica is a native Grenadian who has worked for many years in hospitality and brings a wealth of service-based knowledge, wisdom, laughter, and fun to your experience. She has been part of the Megan's Bay team since 2012. In addition, her decorating skills have created an intimate, welcoming, colorful Bohemian flair in every room and throughout our gardens and grounds. She can help coordinate day trips, show you the ropes in acquiring public transportation or rental cars/scooters, dining suggestions, etc.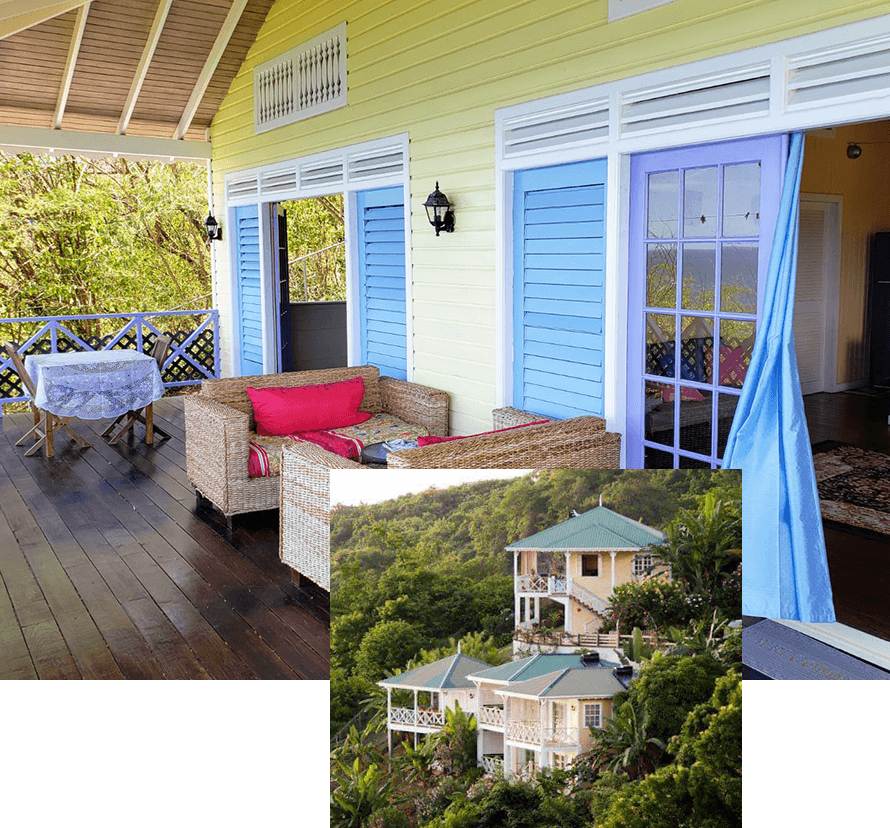 Testimonials
June 2022
Place was super cute with a spectacular view!! We walked down to the beach from the road and did some snorkeling. We had the beach to ourselves and the snorkeling was fantastic, one of the best spots on the island. We also ordered dinner with Erica. The food was delicious and Erica was great!
May 2022
Great cottage off the beaten path in Grenada. One bedroom main cottage is spacious and clean. King bed was very comfortable. We loved the large porch with wonderful views. Steep walk down to the beach, can be slippery footing in places but not bad if you are cautious (our almost 3 year old son was able to manage it while holding our hand). Beach is nice and sandy with some areas for snorkel was well. We saw a couple of locals on the beach each day, but often had it to ourselves. You can easily catch the bus at the top of the hill (another steep hill) or rent a car to travel around on your own terms. There is access to laundry while you are here which is great for longer stays and light packers. I'd recommend bug spray (aggressive deet type not needed as we just used simple essential oil type and it was sufficient.) The bugs aren't terrible but they are there and we all ended up with a few bites.
The hostess, Erica, is very accommodating, friendly and thoughtful. She had a toddler bed and mild ready upon our arrival without us even requesting this. Further, she gave our son some chocolate, crackers and a teddy bear on different days throughout our stay. Erica is also very prompt in solving issues or answering questions (things to do, etc.) and was always available by phone or in person during our stay. Further she cooks a good meal at the restaurant on premises.
Peggy was very easy to communicate with, prompt in her replies, helpful in answering questions pre-trip and offering to-do recommendations. Peggy was also accommodating when we requested a change in our reservation dates.
Currently the house has no lighting in the kitchen while they wait for an electrician to fix the issue, not a deal breaker as you can get some light from the living room, but was darker than I like for cooking. **Issue has been resolved (-Management).
April 2022
Megan's Cottages are beautiful and spacious. Located in a stunning and tranquil location. The view from our balcony was incredible, we loved spending time relaxing and doing yoga on the balcony in the mornings before heading out to explore the island. Erica, the point of contact, is fantastic, always available and any issues, she will have sorted in no time.
Would definitely recommend a visit to Concord Falls which was just around the corner (bring your old trainers). Make sure you speak to the shop & the bar owners who were so interesting and loved giving history of the area. The beach is a 5-10 minute walk and so worth the small hike down. Gorgeous black sand beach and really nice for swimming. The locals are lovely and will be delighted to welcome you into their bars/restaurants give you advise and guidance. Definitely rent a car if you are staying here. Shop around and you can get good prices. We used Konceptz Cars 130 EC a day.
April 2022
Simply amazing! Location, views, feel, all were amazing. It has really made our trip to
Grenada : ) Honestly the staff were the best part. So kind and thoughtful and really made us feel at home. Will definitely come back!